Hello sweet friends!
My table scape is for "5 de Mayo," Mexican holiday to celebrate the victory of an inferior Mexican army defeating a much more powerful French army in 1862! France had been occupying Mexico prior to the battle, at that time.
I never knew about this date while growing up in NY, except because of some of you, my blog friends who make settings for this date and I also did my Internet homework about it.
My inspiration for making a '5 de Mayo' table setting in honor of Mexico is my "Ikat tablecloth"made here, in Ecuador.
The 'Ikat fabric' is also used for the confection of beautiful clothing here in Ecuador; as it's also made by hand in looms and also died with vegetable coloring.
This cloths come in multi-colors; as well as brown and white, black and white, camel and white, white and black, red and black, blue and white...actually, all colors and combos in the rainbow! They are simply beautiful!
I will make a post to show you clothing with the Ikat material in the near future.
So without any further addo here is my '5 de Mayo table scape for 2014.'
Here is my hand made tablecloth in the Ikat technique and died in vegetable colors! I might add that it washes beautifully, even though is natural wool too!
I used some of my everyday china salad plates, square colorful ones from our Factory on top of yellow plates and to finish the stack, my wicker and cane chargers. (why, why didn't I take my computer cables out before I took the pics?)
Here you can appreciate the pretty designs and colors in the Ikat material I had made several years ago and later put together the two shawls to create this colorful tablecloth I love!
I used yellow dinner plates for all four place setting and in this case with a blue square one and a yellow salad plate from my everyday dishes.
A square yellow plate with a blue and white salad plate.
The chargers are wicker and cane in the center of each one; along with a green square plate and orange salad plate.
White square plate and green salad plate. The small pitcher is made at our former Factory, along with the terracotta chicken napkin ring.
Cute color glasses for the 'Tequila' and a bowl fool with dry chilies hubby loves and he also painted the bowl back at his 'Ceramic Factory.'

I used 'Roos and Chicks' napkin rings and a cute hot sauce bowl... both items were made at our 'former ceramic Factory, Monte Turi.' Alejandro sold it six years ago.
Four of a set of six cute 'Tequila' glasses in different colors.
A terracotta Rooster napkin ring.
I chose green water glasses for this setting with matching green napkins inside the smaller Ikat ones.
I love the fringes and all the great colors in the Ikat. I used two shawls sewn in the middle to make the tablecloth, that's why the fringes.
A final evening shot!
Thank you for visiting me wonderful friends, as your comments always make my day!
Thanking the gracious hostesses for having me at their parties too.
LOVE,
FABBY
I will be joining:
Seasonal Sundays at, http://thetablescaper.blogspot.com
Metamorphosis Monday at, http://betweennapsontheporch.blogspot.com
Masterpiece Monday at, http://boogieboardcottage.blogspot.com
Make it Pretty Monday at, http://www.thededicatedhouse.com
A Return to Loveliness at, http://www.adelightsomelife.com
Amaze Me Monday at, http://dewllings-theheartofyourhome.blogspot.com
Inspire Me Monday at, http://www.createwithjoy.com
Inspire Me Tuesday at, http://astrollthrulife.blogspot.com
Sunday Best Showcase at, http://www.twiggstudios.com
Mix it up Monday at, http://www.flourmewithlove.com
Monday Funday at, http://www.creativelylivingblog.com
Tuesdays at our Home at, http://mariaelenasdecor.blogspot.com
Social Media Link Up at, http://sewcraftyangel.blogspot.com
May before and After at, http://thriftydecorchick.blogspot.com
The Scoop at, http://www.stonegable.com
You're Gonna Love it at, http://www.kathewithane.com
Knick of Time Tuesday at, http://knickoftimeinteriors.blogspot.com
Tuesdays with a Twist at, http://www.bloger.com
Wednesdays Adorned from Above at, http://www.adornedfromabove.com
Wake up Wednesday at, http://sewcraftyangel.blogspot.com
The Homemaking Party at, http://www.hopeineveryseason.com
I will be participating in Wow Us Wednesday at Savvy Southern Style.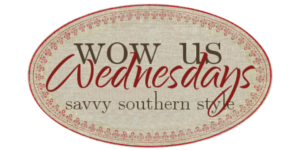 I will be participating in Metamorphosis Monday at Between Naps on the Porch.