Hello my sweet friends!
Today is our 38th. Wedding Anniversary. We got married in Las Vegas, Nevada...yes, there!... in the "Little White Chappel," one Tuesday 25th. of 1975, lol.. I was living in Westwood, LA at the time, with a job in fashion, at Rodeo Drive. Therefore, hubby went there and we made it fast with my room-mate, Cindy Rosen and her boy friend as witnesses. Than we headed to NY to see my parents and finally, got married by the Catholic Church, here in Ecuador. Everything was great, it felt like such an adventure.. you all know how we are when young; but to our surprise, our "adventure" lasted up to now and for ever and I hope for another 37 years if our Lord wants it that way. Thank you so much for coming to wish us happiness and to see the table I made in our honor.
The blue and white tablecloth is Indian and so not to take away from the china I placed a white organza, made in Spain on top of it. The chargers you will see are pewter. I have 12 of them and 12 bread plates to match.

We used to call this china, "Carnations," in our past ceramic company, where we made it. I selected this pattern because this particular pattern are Alejandro's dishes, as mine are the one with the birds, like my header. This "carnation-pattern" you will find it mostly in the Ecuadorian indigenous women's blouses.
As a centerpiece I used a cloche on top of a pedestal from the same china and with two "love birds," inside a hey-thatch nest. Up front is a small, hot sauce bowl with a cute red hot pepper.
The sherbet bowl on top of the salad plate. The stem ware is French from my Mil.
The sherbet bowl. This china, as well as mine, has many pieces.. more than 100 pieces. The ones that have followed me know I shared in a post the entire 350 pieces of mine, last month.
The big platter with it's undulated edges, and hand decorated in a doily manner.
The dinner plate, with the hand decorated carnations inside it, as well.
The pretty soup bowl.

The place setting. The salad plate, at your upper right.. in the doily pattern as well. This china came with some pieces in mix and match patterns, like the big serving platter and salad plates.
Here in this small tray are two demitasse cups for espresso with a small silver spoon with jade handles.
The small cloche with the nesting "love birds."
The under blue and white tablecloth is Indian and it's so pretty. I didn't want the pattern to take away from the dishes, so I chose a Spanish organza, transparent table topper in white too.
At your left the white napkin ring with a little blue butterfly.
Here you have it, our 38th. Anniversary table 2013. I pray to God He grants Alejandro and me, many more happy years together.
Thank you my lovelies for your visits to wish us a happy anniversary..caz I know you will...you, generous bunch!
Thanking in advance to the wonderful hostesses for having us today.
LOVE,
FABBY
I'm joining the following parties..hope you do too.
Sally for Blue Monday at, http://smilingsally.blogspot.com
Marty for Table Top Tuesday at, http://astrollthrulife
Kathleen for Let's Dish at, http://cuisinekathleen
Kathe for Your Gonna Love It at, http://kathewithane
Angie for Knick of Time Tuesday at, http://knickoftime
A Return to Loveliness at, http://adelightsomelife
Tea Time Tuesday at, http://rosechintzcottage
Tea Cup Tuesday at, http://artfulaffirmations
Tea Cup Tuesday at, http://marthasfavorites
Tuesday Cuppa Tea at, http://antiquesandteacups
Friends Sharing Tea at, http://bernideensteatimeblog
Ricky for My Happy List at, http://artandhome
Home and Garden Thursday at, http://adelightsomelife
It's a Party at, http://acreativeprincess
Share Your Cup at, http://haveadailycupofmrsolson
Primp Your Stuff Wednesday at, http://primpblogspot
Open House Party at, http://nominimalisthere
The Country Homemaker Blog Hop at, http://dollyiscooking
Riverton Housewives Round Up at, http://therealhousewivesofriverton
Vintage Thingie Thursday at, http://coloradolady
Grace at Home at, http://impartinggrace
Simple and Sweet Friday at, http://rootedinthyme
Be Inspired Friday at, http://commonground
Home Sweet Home at, http://thecharmofhome
Courtney for Feathered Nest Friday at, http://frenchcountrycottage
Thifty Things Friday at, http://thethriftygroove
Beverly for Pink Saturday at, http://howsweetthesound.typad.com/my_weblog
Seasonal Sunday at, http://thetablescaper
Show and Tell Saturday at, http://bedifferentactnormal
I will be participating in Tablescape Thursday at, Between Naps on the Porch.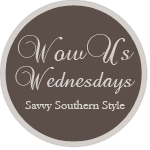 I'm participating in Wow Us Wednesday at, Savvy Southern Style