Hello sweet friends!
Here's another exciting cloche party at Marty's, Table Top Tuesday. This is Marty's first Cloche Party 2013 and I chose for my collaboration, Collections Under Cloches, like some of my teapots, antique Virgin Marys, which I displayed them in my foyer vintage table and I'm thinking I'll leave them there for a while, I love them here! I also placed under cloches some of my teapots and little creamers...on my formal dining table. I also did a small vignette in the kitchen, again, with a collection that's just starting, which are pepper mills and I just acquired two of them on sale! Let's join the party...!!!
My collection of Blessed Virgin Marys statues. The chocolate and candy pretty heart boxes, just for the touch of Valentine's. I also decided I'm keeping the Blessed Mothers here in the foyer's French vintage table, for a time.
Up front, Virgin Mary of Quinche is believed to be very miraculous, she is the Andean Virgin..that's why in Quito-Ecuador there's a beautiful church with Her name. My Mil gave it to me when my dear daughter Alexandra was born. She is made of clay and is an antique.
This beautiful Virgin Mary is the Patroness of Ecuador. She is The Legarda Virgin. She is new, she was a gift from my best friend Myriam for my 50th. birthday...very soon she'll be vintage too, lol.. This Virgin is the only one from recent times, I have.
My favorite is the one at your left, she's a Colonial Virgin, at least 100 years old and it's Alejandro's heirloom from his mother.
This beautiful Immaculate Conception was my hubby's grandfather's when he was a child..so she is an antique too. My Mil gave it to me, because in my family we worship The Blessed Immaculate Conception. My mother has a big beautiful one from my grandmother, I guess she will give me Her one day.
My kitchen vignette in a tray with my pepper mills, which I just got the Lucite and tall wooden one on sale for $4 each and since I like pepper mills, I decided that would be a great and fun collection! The small wooden one comes with a salt-shaker too and we bought it in Macy's, NY when we first got married and it's French.
The platter in the back was made at our former Ceramic Co...along with the soup-cup and saucer.
You can appreciate a little of the pretty embroidery on the tray mat.
I displayed some of my teapots under glass on my formal dining table. Up front the elephant teapot with the Chinese boy lid.
Blue Onion teacups and creamer in my apothecary jar and a creamer in the French bronze cloche with pedestal.
A gathering of a bunch of tiny creamers, of all material and makes;..or like we use them around here, for the lemon juice for tea.
At your left is my Mil's silver teapot.
Red English transfer ware looks great under glass too.
Here you have them..along with an oil lamp, candle holder, which I sometimes use it as a cloche too..and at right, another candle holder.
LOVE,
FABBY
Thank you so much for your visits, they always make my day!
Thank you lovely and gracious hostesses for having me at your fun parties, specially Marty for Tables Top Tuesday and I hope to see all of you there, as again, she's hosting her great "Winter Cloche Party" for 2013 at, http://astrollthrulife.blogspot.com
Sally for Blue Monday at, http://smilingsally.blogspot.com
Angie for Knick of Time Tuesday at, http://knickoftime.blogspot.com
Tea Cup Tuesday at, http://artfulaffirmations.blogspot.com
Open House Party at, http://nominimalistparty.blogspot.com
Kathe for You're Gonna Love It at, http://kathewithane.blogspot.com
Make It Pretty Monday at, http://thededicatedhouse.blogspot.com
Teacup Tuesday at, http://marthasfavorites.blogspot.com
Primp Your Stuff Wednesday at, http://primp.blogspot.com
Paula for What's It Wednesday at, http://ivyandelephants.blogspot.com
Rednesday at, http://suelovescherries.blogspot.com
Riverton Housewives Round Up at, http://therealhousewivesofriverton.blogspot.com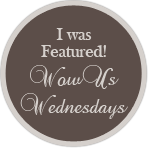 I am participating in Wow Us Wednesday at, Savvy Southern Style