Hello sweet friends!
I did this table to greet my daughter Sofia, her husband and my two grandgirls that were coming over for a long Carnival weekend. We were seven, with mother and the two of us.
The menu consisted of Barley Soup with milk and cheese and it's wonderful and good for your health and a fav of the girls. The main course was a OvenTender Loin I make, a favorite of all; with a gourmet mash potato that has cream and mushrooms...really fine and elegant, lol.. A big lettuce and spinach salad with avocado. I have mentioned you that lunches are big in this part of the world and dinners very light.
"The cake you see here is for dessert, paired with ice-cream; chocolate for the girls and vanilla for us, adults.
The sponge cake is made out of 'Arrowroot flour' (Canna-edulis flour). You can look it up in the Internet.
"This cake was taught in "Colonial times by the Spanish Monks and they had to make it in those days with this ancient Inca food crops, it was one of the first plants to have been cooked as you would a potato, or used as a flour or thickening agent. This sponge kind of cake is amazingly delicious and very popular as it is a local recipe."
The recipe comes from my dear Mil's family and from her own published cook book. I'm sharing it at the end of the post, if you would like. Very easy, but the Canna-edulis flour is the secret, though. Although, you could make it with potato-flour too, I did it once that way and it was fine too.

I love blue for spring...light blue that is; therefore, I used it for the table linen here... along with my everyday dishes that come in different colors, even the salad plate which is not set here as I had them in the kitchen ready with a warm salad.
I love the blue in the tablecloth with the thin white lines going across all of it. I bought this lovely table topper several years ago on sale for just $12, plus 12 blue napkins!
Little bunny playing with flowers. Porcelain Capodimonti flower baskets and some made at our past ceramic company too.
Bunnies and birds to greet Spring.
Butterflies in the ceramic napkin rings that were made by us.
A green soup plate, next an orange one, than a blue one and finally there's a yellow one to bring together the orange dinner plates.
I'm joining the 'Spring Mega Linky Party' over at Ivonne from Stone Gable and some other wonderful hostesses as well.
The plate set with the orange dinner plate and the orange striped soup plate, bring the table setting together. The flatware set for 12 place settings, plus 12 steak knives, was bought in Bloomingdale's, Orlando on sale for just $60 bucks and they're Reed & Barton.
I bought two of each color of the soup bowls and salad plates noy shown here... so I placed the blue ones for the two men, the 2 orange for my DD and me, one green one for mother and the 2 yellow ones for the grandgirls...
The Ecuadorian specialty, taught by Spanish Monks couple of hundred years ago. The recipe bellow it's easy and delish, it's a sponge cake like no other!
Oh, oh! I hope he leaves us a piece, this mischievous little bunny!
Birds singing cause Spring is coming! Adorable small German crystal flower vase.
I love this strip of what it seems like white tulips all around the four sides of the cloth.
I love this cake, specially mother!
The pic seems crooked but my table wasn't, lol!
Thank you so much lovely friends for your sweet and kind visits, as you always make my day!
Thanking the generous and gracious hostesses for having me at their great parties!
LOVE,
FABBY
ANTIQUE RECIPE FOR ECUADORIAN SPONGE CAKE ( from my Mother in law's recipe book)
10 egg yokes, and only 5 egg whites (preferably country eggs)
6 ounces of Canna-edulis flour, or 'Arrowroot,' if not, potato sifted flour. NOT the all purpose one!
8 ounces of powder sugar , sifted
1 1/2 tablespoon of lemon juice
1 tablespoon of Spanish anise liquor, or anyone you have.
Instructions:
I place the 5 whites in the Kitchen Aid, or you can use any beater you prefer. Beat the 5 whites until soft peaks and start adding the egg yokes one at a time while beating and than slowly the sifted powder sugar.
Meanwhile, pre-heat oven to 350F for 10 minutes; turn oven off and place the sifted potato or better, the Arrowroot flour in a peace of wax-paper and warm it up for 5 minutes, take it out and start slowly pouring it into the egg mixture while you have the beater running. Make sure it's thoroughly mixed so there are no lumps in the batter. Finally, add the lemon juice and the liquor and beat to mix well.
Pre-heat oven to 250F.
Grease and flour an 11inch, spring form pan. Pour the batter evenly and place inside oven and bake for 45 minutes, or check your oven. Stick in center of cake a toothpick to see if it's dry, but this sponge cake is very moist and yummy...really!
The Arrowroot plant, or Canna-edulis plant, where the flour is made for this sponge cake... by Indigenous people of Ecuador.
I will be joining:
Spring Flowers and Mega Link Party at, http://www.townandcountryliving.com
http://confessionsofaplateaddict.blogspot.com
http://theverydayhome.blogspot.com
http://stonegable.blogspot.com
Marty for Inspire Me Tuesday at, http://astrollthrulife.blogspot.com
Ma. Elena for Tuesdays at our Home at, http://mariaelenasdecor.blogspot.com
Kathryn for Make it Pretty Monday at, http://thededicatedhouse.blogspot.com
You're Gonna Love it at, http://www.kathewithane.com
Tuesdays with a Twist at, http://http://backtobasics.blogspot.com
Terri for Teacup Tuesday at, http://artfulaffirmations.blogspot.com
Wordless Wednesday at, http://createwithjoy.blogspot.com
Deborah for What We Accomplished Wednesday at, http://www.greenwillowpond.com
Mary for Masterpiece Monday at, http://boogieboardcottage.blogspot.com
Debi and Charly for Wednesday's Adorned from above at, http://www.adornedfromabove.com
Party on the Porch at, http://www.theshadyporch.com
Wake Up Wednesday Linky Party at, http://sewcraftyangel.blogspot.com
Cottage Style Party & a Tea Party at, http://lavendergardencottage.blogspot.com
Paula and Patty for What's it Wednesday at, http://ivyandelephants.blogspot.com
Riverton Housewives Roundup at, http://www.housewivesofriverton.com
Party on the Porch at, http://www.theshadyporch.com
Terri for It's a Party at, http://acreativeprincess.blogspot.com
Kathy for Home and Garden Thursday at, www.adelightsomelife.com
The Homemaking Party at, http://www.hopeineveryseason.com
Wildly Original Linky Paty at, http://igottacreate.blogspot.com
Create it Thursday at, http://www.lambertslately.com
Vintage Thingie Thursday at, http://cloradolady.blogspot.com
Thrifty Things Friday at, http://thethriftygroove.blogspot.com
Fabulously Creative Friday at, http://www.jenniferrizzo.com
Michael Lee for Foodie Friday at, http://designsbygollum.blogspot.com
Lucy for The Inspiration Gallery at, http://www.craftberrybush.com
Foodie Friends Friday at, http://livingthegourmet.blogspot.com
Beverly for PINK Saturday at, http://howsweetthesound.typepad.com
Sally for BLUE Monday at, http://smilingsally.blogspot.com
Alma for Seasonal Sunday at, http://thetablescaper.blogspot.com
Mostly Food and Crafts: Friday Frenzy at, http://www.mostlyfoodandcrafts.com
Chain Linky CLIMB at, http://www.godsgrowinggarden.com
Say G'Day Saturday at, http://www.natashainoz.com
Show and Tell Saturday at, http://www.bedifferentactnormal.com
I will be participating in Tablescape Thursday at Between Naps on the Porch.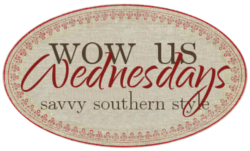 I will be joining Wow Us Wednesday at Savvy Southern Style.