Hello sweet friends!
This past Wednesday, March the 26th., would have been the fourth Wednesday of each month when I host the praying of the Rosary at home; with a group of friends for the peace of our countries, families, and special needs anyone asks us to.
You can also request prayers and I will oblige with all my heart!
After we finish praying we retreat to the dining room for tea or coffee with, bread, butter, cheese and marmalade.
I usually love to set the table for them, but this time we all went to a 'cloister' of nuns that never come out and wear a vale, but they let women visit them to pray, always with a special permit from the Monsignor and a friend of ours is close to the Mother Superior; that's why we were so lucky and blessed to go inside the convent and pray the Rosary with the nuns.
We prayed the Rosary in their chapel with the sweet and young nuns and after it they had also set a beautiful table for us, with lace tablecloth and bone china teacups and saucers, where they served us rose tea prepared by them, with cookies and cake.
What a unique experience!!! Pictures are prohibited...sorry! After I wrote this post for you, one of my friends send me a pic from her cel phone. Look for it as you go down the photos.
Here is what I had planned for a tea scape for the last Wednesday's Rosary.
Here is my Spring 'high tea'
table.
I used as the centerpiece for this tea scape my "Antique Dutch, Blue-Delft, hand made in Holland" garniture set I love.
Can you believe I never placed flowers in the flower vases in the past?... and I'm loving it!
Hutschenreuther butter dishes.
Blue and white Onion dinner plate serving as a charger for the White Italian Tognana teacups and saucers, I bought for $5,50 a box of six. I purchased two boxes, of course, lol!
The salad white plates I bought separately for the twelve teacups and they matched perfectly! They are 'Corona,' a great brand of Colombian white table stone wear....and quite inexpensive too!
The silver birds for s touch of whimsy.
The lace place mats I have for close to twenty years.
The pretty 'bombonier' with the birdie perched on the top; was made at our former ceramic company, Monte Turi.
My mom gave me this lovely linen embroidered table square a couple of years ago for my b'day.
I love the small Onion pattern box, where I keep the diet sugar for some of us.
Look how beautiful the hand decorated peacock in the Dutch ginger jar is...and there's a little blue lion on the lid, as well.
Silver birds with Green eyes, for the Spring touch.
The friends that follow me know that I DIYed this cobalt blue cake pedestal out of an Italian round platter and a small blue bowl I had...glued them together and uelah!
The 'High Tea' cloche was bought on sale a while back for $4.
Meissen two tier server and blue water goblets.
Onion pattern fruit bowl and vintage French urn.
On the wall far back, my collection of blue and white plates... some are vintage too.
Even the back of the ginger jar is so pretty and it has a little blue lion on top.
Birds and flowers for a little Spring whimsy.
At your left in the back of the dining room is the foyer and living room.
One of my friend's sneaked a pic with her cel phone of a sweet young sister that had set our tea table with lace tablecloth and bone china teacups and saucers. Look at the honey cake and cookies they shared with us!
The convent is 400 years old.
Alejandro just brought me these amazing roses from his brother's professional 'Rose farm-Altaflor' What a color, ha?!
Thank you so much for visiting me lovely ladies, as you always make my day!
Thanking the gracious and generous hostesses for having me at their great parties.
LOVE,
FABBY
I will be joining:
Natasha for Say G'Day Saturday Party at, http://www.natashainoz.com
Alma for Seasonal Sunday at, http://thetablescaper.blogspot.com
Sally for BLUE Monday at, http://smilingsally.blogspot.com
Stephanie for The Sunday Showcase Party at, http://www.bystephanielynn.com
Masterpiece Monday at, http://boogieboardcottage.blogspot.com
Kathryn for Make it Pretty Monday at, http://thededicatedhouse.blogspot.com
A Return to Loveliness at, http://adelightsomelife.blogspot.com
Cindy for Amaze Me Monday at, http://dwellingstheheartofyourhome.blogspot.com
Kaysi for Motivate Me Monday at, http://keepingitsimple.blogspot.com
Marty for Inspire Me Tuesday at, http://astrollthrulife.blogspot.com
Tea Cup Tuesdays at, http://marthasfavorites.blogspot.com
Sandi for Tea Time Tuesday at, http://sandimyyellowdoor.blogspot.com
A Bouquet of Talent Linky Party at, http://www.lifeonlakeshoredrive.com
Danielle for Silver Pennies Sunday at, http://www.findingsilverpennies.com
Aimee Lee for Share Your Creativity party at, http://www.it'soverflowing.com
Create with Joy at, http://www.createwithjoy.com
Martha and Terri for Tea Cup Tuesday at, http://artfullaffirmations.blogspot.com
Ruth for Tuesday Cuppa Tea at, http://www.antiquesandteacups.info
Nifty Thrifty Tuesday at, http://linda-coastalcharm.blogspot.com
Kathy for Home and Garden Thursday at, http://www.adelightsomelife.com
Ma.Elena for Tuesdays at our Home at, http://mariaelenasdecorblogspot.com
Bernideen for Friends Sharing Tea at, http://blog.bernideens.com
Kathe for You're Gonna Love it Tuesday at, http://www.kathewithane.com
Martha for Tea Time Tuesday at, http://www.marthasfavorites.com
Angie for Knick of Time Tuesday at, http://knickoftimeinteriors.blogspot.com
Paula and Patty for What's it Wednesday at, http://ivyandelephants.blogspot.com
"Isabelle Thornton" Le Chateau des Fleurs at http://lechateaudesfleurs.blogspot.com
THE SCOOP at, http://confessionsofaplateaddict.blogspot.com
What We Accomplished Wednesday at, http://www.greenwillopond.com
Wake up Wednesday at, http://sewcraftyangel.blogspot.com
Deb for Cottage Style Party at, http://gardenstylecottage.blogspot.com
Centerpiece Wednesday at, http://thestylesisters.blogspot.com
Share Your cup Thursday at, http://www.haveadailycupofmrsolson.com
Debra for Be Inspired at, http://www.commonground.com
Liz for Fresh Cut Friday at,
http://rosevignettes.blogspot.com
Lesly for Create it Thursday at, http://www.labertslately.com
It's a Party at, http://acreativeprincess.blogspot.com
Suzanne for Vintage Thingie Thursday at, http://coloradolady.blogspot.com
Thrifty Things Friday at, http://thethriftygroove.blogspot.com
Sherry for Home Sweet Home at, http://thecharmofhome.blogspot.com
Katherines for Thursdays Favorite Things at, http://www.katherinescorner.com
Lucy for The Inspiration Gallery at, http://www.craftberrybush.com
I will be participating in Wow Us Wednesday at Savvy Southern Style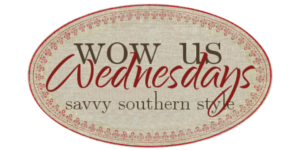 I will be joining Tablescape Thursday at Between Naps on the Porch.