Hello sweet friends!
I finally gathered lots some pictures from my dear granddaughter's First Communion, a week ago. This photos were taken mostly by Alejandro and me, as there are professional ones too, which hope to get from my daughter one day.
My daughter Sofia arranged the flowers in the dining room, specially the decoration of her amazing 'Table of Sweets,' which she also designed and executed, as here in Ecuador is the custom and tradition for the dessert in a luncheon, as this one. I was there two days before to give her a hand, although she had everything under control.
There were amazing flowers arrangements throughout her lovely home and in the luncheon tables, which she had professionally done by her supervision and choice of flowers, because it would have been to much for her alone.
The tradition here for a child's First Communion is the 'Table of Sweets,' which consists of beautiful arrangements of many, many small sweets of all types, some even with FC decorations in them, of course. Everything is always grand as a First Communion is considered the most important 'Sacrament of the Catholic Faith' in a child's life, I'd say for all Latin Americans.
I also brought some cute sweets from Cuenca, the city where Sofia grew up and we live still, because she had many memories from her own FC. Anyway, I will be explaining under each photo.
Here goes, so please sit down and get comfortable because there are many pics in the 'First Part' of Victoria's First Communion. Hope you enjoy it and come for the 'Second Part,' where you will finally see Victoria in her gorgeous white dress and the rest of us.

Sofia and Victoria the day before checking that the caterers where doing everything the way they wanted. Weather in Guayaquil is always hot like Summer in the US, sometimes a little cooler like now.
The tent you see here is for the luncheon buffet.
Assembling chiffon fabric canopies or awnings, because of the hot sun in the middle of the day. The huge 'river' you see in back of her yard is a maritime river. Alejandro loves to be photographing ships when they go by.
All set for the luncheon buffet.
Sofia had assembled in her garage a pretty and fun buffet for the 38 little girls from Victoria's class. They were going to have some kind of entertainment as well.
This is how her back yard looked like the night before. The tables for her 60 adults guests are way back, so the following day we would place the beautiful flower arrangements and that would be all.
This is a sample of the flower vases for each table of 10. They all had these lovely lace tablecloths too. In the back some of the boxes of little sweets that kept arriving the day before.
The flowers for the tables all ready the night before.
A platter with little sweets and like I said, a First Communion in Ecuador is not a FC if you don't offer hundreds of these adorable and delicious sweets to your guests for dessert. Look at the marzipan ones with birds and bibles on top, so cute! I didn't show you all of them as there were close to fifteen varieties and most of them were 100 of each. They were wonderful!
Sofia arranging the sweets in her pretty white trays, the night before. My helping hands at your right, lol..
At this point we were waiting more to be delivered, so we were leaving spaces in the platters and trays to fill them up.
There are so many sweets in boxes in the kitchen for the refill, as the custom is to have enough so family and guests can take some home in small bags which were also provided.
They're also sent after the party, some to the neighbors and to people that laid hands to help out with the F.C.
A small station for coffee or tea which was served after the luncheon. This was also in the back porch. Notice my mother's gift for Victoria, the Bavarian plate and teacup. You can't see, but at your left there was a First Communion album were guests and family wish the child happiness throughout her life in God's trust.
Almost ready!
Sofia bought white carton boxes to raise the trays with the sweets and added a white lace around them to make them festive, and because of all the white here is difficult to appreciate the lace ribbon. A very easy, pretty and inexpensive decor.

This side table is holding the 'First Communion favors,' another tradition and custom we have here in Ecuador and all Latin America.
At left there were cute cloth bags holding sterling pill boxes for the ladies with the face of the 'Virgin Mary' and the square boxes are for the children and they come with Christian legends inside called "Our daily Bread." Children love to read one card each day at dinner time together with their families, as there are 365 for each day of the year; along with religious cards. All these had Victoria's name in it, of course, so the guests will remember her special day of her First Communion.
Sofia made this gorgeous arrangements for her special 'sweets table.' She placed them in each corner of her dinning table in different levels.
The cake was gorgeous too.
I brought Victoria 400 sweets with different shapes, specially cause they are from this region of the country, Cuenca, where Sofia grew up, so she has many memories from her childhood and her very own FC with the little fruit sweets at your left and so many more.
Under the square tray you can see a little of the white lace ribbon around the white box which she bought to raise the platters, or trays.
The entrance all done up with white carnations and green roses.
These white Carnation balls where hanging in the trees as you came in the house. I took the shot at night as in the day time the sun was so bright and you could hardly appreciate them in the photos.
Sofia's amazing design with her 'sweets table' she so proudly worked hard designing and executing. The pretty flowers in the buffet were done up by her, along with the ones in the table. The German crystal urns were also filled with hand made candy wrapped in white.
These are wonderful, as Sofia explained that she saw this arrangement in Internet somewhere...where you put water half way the glass urn and on top you place the oasis where you just stick the greens and the roses and the water keeps clean and it's perfect for glass...I loved it!
Another beautiful arrangement in this Chinese ginger jar. Her orchid plant in the Art Deco vintage side table.
The tables ready for the luncheon, Saturday September 21; after the family and guests would arrive from church from Victoria's First Communion.
I hope you come by for the 'Second Part' of the event so you can finally see Victoria in her White dress and lots of more fun things.
Thank you so much lovely friends for your sweet and generous comments, as they always make my day!
Thanking the gracious hostesses for having me at their wonderful parties each week.
LOVE,
FABBY
Marty for Inspire Me Tuesday at, http://astrollthrulife.blogspot.com
Amaze Me Monday at, http://dwellingstheheartofyourhome.blogspot.com
Inspire Me Monday at, http://createwithjoy.blogspot.com
Kristy Inspiration Monday at, http://ishouldbemoppingthefloor.blogspot.com
Kathryn for Make it Pretty Monday at, http://thededicatedhouse.blogspot.com
A Return to Loveliness at, http://adelightsomelife.blogspot.com
Motivate Me Monday at, http://keepingitsimple.blogspot.com
Sandi for Tea Time Tuesday at, http://sandimyyellowdoor.blogspot.com
Linda for Nifty Thrifty Tuesday at, http://coastalcharm.blogspot.com
Autumn Abounds Linky Party at, http://atthepicketfence.blogspot.com
Nita for Mod Mix Monday at, http://modvintagelife.blogspot.com
Kathy for A Return to Loveliness at, http://adelightsomelife.blogspot.com
Debbie for The Scoop at, http://confessionsofaplateaddict
Kathe for You're Gonna Love it at, http://kathewithane.blogspot.com
Ma. Elena for Tuesdays at our Home at, http://ourhomeawayfromhome.blogspot.com
Ruth for Tuesday Cuppa Tea at, http://antiquesandteacups.blogspot.com
Wordless Wednesday at, http://createwithjoy.blogspot.com
Mary for Tuesday with a Twist at, http://backtobasics.blogspot.com
Terri for Tea Cup Tuesday at, http://artfullaffirmations.blogspot.com
Paula for What's It Wednesday at, http://ivyandelephants.blogspot.com
Bernideen's Friends Sharing Tea at, http://bernideenteatimeblog.bogspot.com
Ricky Jill for My Happy List at, http://artandhome.blogspot.com
Kathleen for Let's Dish at, http://cuisinekathleen.blogspot.com
Judy for Wordless Wednesday at, http://judisjustthoughts.blogspot.com
Home (work) Wednesday at, http://theevrydayhome.blogspot.com
Centerpiece Wenesday at, http://thestylesisters.blogspot.com
Make, Bake, Create at, http://bubblynaturecreations.blogspot.com
Share Your Cup Thursday at, http://haveadailycupofmrsolson.blogspot.com
Sherry for Open House Blog Party at, http://nominimalisthere.blogspot.com
Kathy for Home and Graden Thursday at, http://adelightsomelife.blogspot.com
Terri for It's a arty at, http://acreativeprincess.blogspot.com
Riverton Housewives Roundup at, http://therealhousewiversofriverton.blogspot.com
Christine for Wildly Original Linky Party at, http://igottacreate.blogspot.com
Ivonne for TUTORIALS, TIPS AND TIDBITS at, http://stonegable.blogspot.com
Suzanne for Vintage Thingie Thursday at, http://coloradolady.blogspot.com
Sherry for Home Sweet Home at, http://thecharmofhome.blogspot.com
Fresh Cut Friday at, http://rosevignette.blogspot.com
Valkomen for Saturday Show Off at, http://therosegardeninmalevik.blogspot.com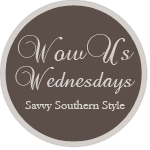 I will be joining Wow Us Wednesday at Savvy Southern Style.
I will be participating in Metamorphosis Monday at Between Naps on the Porch.