Hello sweet friends!
I just got back from our very long weekend at our daughter's house for grand Victoria's First Communion, which was last Saturday the 21 of Sept., 2013. Everything turned out fabulous and our young Victoria was extremely happy!
I will be posting about the First Communion after this post with the 'Apple Theme,' which I had ready for "Kathleen's new challenge, for Let's Dish at Cuisine Kathleen." I did a small table for the two of us with everything APPLE...right in our kitchen nook. I hope you like it! Here goes...
My contribution to the challenge for 'Let's Dish at Cuisine Kathleen with the 'Apple Theme' has been by using green apples, green plates and green goblets. The table topper has some apples as well, although not green as I tried to incorporate specially the Green color in this tablescape.
The dishes in green were all made back at our past Factory, including the Apple-green ones.
The tablecloth has a Fall look to it and some red apples in the print as well.
Rattan charger, white dinner plate, green and white entree plate.
Apple napkins on top of apple-green salad plates.
The bowl at your right, standing on leaves is for the soup.
I liked this tablecloth I had for the kitchen table, as it has a Fall look to the print, what with leaves, pumpkins and apples.
Late afternoon colors and I have lighted the stained glass sky light, here in the kitchen.
I love how the sky has streaks in blue shades and even a pink one; as it's 6:30 pm as I finished this tablescape before I went to my Victoria's First Communion.
Now, the following day I grabbed two apples and made this delicious 'Apple Pancake' Alejandro loves and for our lunch dessert...as I've mentioned before that we have a heavier lunch and a lighter dinner.
The Apple Pancake recipe follows:
Directions
In a large bowl, blend eggs, flour, baking powder, sugar and salt. Gradually mix in milk, stirring constantly. Add vanilla, melted butter and 1/2 teaspoon nutmeg. Let batter stand for 30 minutes or overnight. (When I'm doing a dinner party I let it stand so it's ready from the day before, otherwise I don't)

Preheat oven to 425 degrees F (220 degrees C).

Melt butter in a 10 inch oven proof skillet, (I use a cast-iron skillet) brushing butter up on the sides of the pan. In a small bowl, combine 1/4 cup sugar, cinnamon and 1/2 teaspoon nutmeg. Sprinkle mixture over the butter. Line the pan with apple slices. (I use 2 small apples instead of just one). Sprinkle remaining sugar over apples. Place pan over medium-high heat until the mixture bubbles, then gently pour the batter mixture over the apples.

Bake in preheated oven for 15 minutes. Reduce heat to 375 degrees F (190 degrees C) and bake for 10 minutes. Slide pancake onto serving platter and cut into wedges.
PS: This is great with vanilla ice cream too, on a hot day, or always, lol!
Thank you so much for your wonderful and kind visits, as you always make my day! I will also be a little late answering your precious comments from the before post, but, be sure I'll get to the last one!
Thank you gracious hostesses for having me at your great parties each week.
LOVE,
FABBY
Marty for Inspire Me Tuesday at, http://astrollthrulife.blogspot.com
Kathryn for Make it Pretty Monday at, http://thededicatedhouse.blogspot.com
Kathleen for Let's Dish at http://cuisinekathleen.blogspot.com
Ma. Elena for Tuesdays at Our Home at, http://ourhomeawayfromhomer.blogspot.com
Kathe for You're Gonna Love it at, http://kathewithane.blogspot.com
Angie for Knick of Time Tuesday at, http://knickoftime.blogspot.com
Linda for Nifty Thrifty Tuesday at, http://coastalcharm.blogspot.com
Inspiration Monday at, http://ishouldbemoppingthefloor.blogspot.com
Debbie for Please Join Me for the Scoop at, http://confessionsofaplateaddict.blogspot.com
Cindy for Amaze Me Monday at, http://dwelliungstheheartofyourhome.blogspot.com
Paula for What's it Wednesday at, http://ivyandelephants.blogspot.com
Tuesdays with a Twist at, http://backtobasics.blogspot.com
Bernideen for Friends Sharing Tea at, http://bernideensteatimeblog.blogspot.com
Tea Cup Tuesday at, http://artfulaffirmations.blogspot.com
Sandi for Tea Time Tuesday at, http://sandimyyellowdoor.blogspot.com
Judy for Wordless Wednesday Linky at, http://judyhjsthoughts.blogspot.com
Home (work) Wednesday at, http://theeverydayhome.blogspot.com
Deb for Cottage Style Party at, http://lavendergardencottage.blogspot.com
Centerpiece Wednesday at, http://thestylesisters.blogspot.com
Riverton Housewives Roundup at, http://therealhousewivesofriverton
Share Your Cup at, http://haveadailycupofmresolson.blogspot.con
Sherry for Open House Party at, http://nominimalisthere.blogspot.com
Kathy for Home and Garden Thursday at, http://adelightsomelife.blogspot.com
The Homemaking Party at, http://hopeineveryseason.blogspot.com
Wildly Original Linky Party at, http://igottacreate.blogspot.com
Create it Thursday at, http://lambertslately.blogspot.com
Ivonne for Tutorials, Tips and Tidbits at, http://stonegable.blogspot.com
Suzanne for Vintage Thingie Thursday at, http://coloradolady.blogspot.com
Jenn for Fabulously Creative Friday Linky Party at, http://www.jenniferrizzo.com
Debra for Be Inspired at, http://www.commonground-do.com
Terri for It's a Party at, http://acreativeprincess.blogspot.co
Melody for Rednesday Wednesday at, http://brownginghamcreations.blogspot.com
Thrifty Things Friday at, http://thethriftygroove.blogspot.com
I will be participating in Tablescape Thursday at Between Naps on the Porch.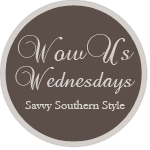 I will be participating in Wow Us Wednesday at Savvy Southern Style.