Hello sweet friends!
I was craving some pound cake after seeing a blog with a recipe. I made a small one, actually, half a recipe... enough to share it with Alejandro, my friend Carmen, maybe someone else and me of course...just one little piece for me, as I hardly ever have any carbs, lol..
The other thing is that we'll have the tea and cake at the foyer's 'Antique French' table. The foyer table is flanked by the living room and formal dining room; so I have prepared a 'Little Tour' of this area too, for a bit more fun! Ok, say no further and come on over for some tea and cake...or coffee if you prefer.
Alejandro, (Mr. Living) bought this vintage French beauty 2 1/2 years ago at the European Antique Imports shop, (some might even remember it) we have around here; which brings lovely things from Europe all year round. I didn't have anything in the center of the foyer, so the table was just the perfect thing!
The French table has white Carrara marble top and goes well with our marble floor. I used the tea set from my beloved blue and white Onion china from the Czech Republic.
I love this inexpensive flowers from the grocery store, too! The doggies in the back are vintage French, as well. The two small busts, with blue hats are also vintage French.

This pretty china set didn't come with a teapot, as it had broken in the store, but I had this lovely blue and white, Bareuther Indischblau-Bavaria teapot, that matches beautifully! In the back, a small vintage French girl's bust holding a sheep, and wearing a blue bonnet.
The two vintage French busts is of a boy with a flute, here... and a girl holding a sheep, like in the previous photo and they're from the Antique European shop from a few years ago. The yummy pound cake!
To your left you will enter our den. My Starbucks mug at left, with my green tea; which

I drink it

all day...it supost to burn fat and yeah, I do believe it! The Scandinavian Antique chair has real leopard skin on...sorry Pita people, too late!
In the foreground is Alejandro's grandfather's antique piece of furniture, with blue and white Dutch Delft pieces and some family photos in silver frames. Mercury glass candle sticks.
To the left you can see a little of the formal dining room. Up front a Capodimonti tray with Puti.
Last month when we were on vacation in Florida, I bought on sale at 'Bloomingdale's- Orlando' this big set of 80 pieces of 'Reed and Barton,' classic flatware. Here are some teaspoons and cake forks. The set is for 12, with regular knives and stake knives as well... and lots of serving pieces. I love it!
The Chinese hand painted, black secretary I love. My grandgirls's portrait in the wall.

The pound cake came out delish and thanks to blog friend from: 'The Kitchen is my Playground.' I placed it on a mercury glass cake pedestal.
A marble side-half moon table that goes with the coffee table in the living room. The mirror is an antique from hubby's grandma and it's brass with 'mother of pearl.' The Armillary-Sphere is also brass, as is the little ashtray. A brass Hansen arm lamp on top.
Towards the living room.
I took this shot sitting in the couch's living room and you can see my lovely orchid. I'm also having fun playing with my new camera, that I bought in Florida and it's a cute little Canon.
This bowl is Imari- Dutch Delft, hand decorated and it's now carrying my orchid plant in the living room. In the foreground you can see our den area and fire place mantel.
The marble coffee table I had custom made 20 years ago from an, Architectural Digest issue where Francois Sagan, French writer had in her living room and I fell in love with it! In another pic before, you saw how I had a small half moon side table made to match this one.
This is exactly how the foyer looks. Couldn't do anything with the big arm of the side couch to get rid of it in the picture, lol.. Anyway, the upholstery is Italian silk brocade.
The water pitcher with blue etchings is vintage English.

This is it, my friends. I hope you enjoyed this part of our house and the little tea setting. The chairs you see here are 'Chinese Chippendale.' The entrance door is next to the painting in the back. Good by for now and thank you for coming. You always make my day!
I appreciate the wonderful parties such lovely ladies host each week.
LOVE,
FABBY
Marty for Inspire Me Tuesday at, http://astrollthrulife
Sally for BLUE Monday at, http://smilingsally.blogspot.com
Kathryn for Make it Pretty Monday at, http://thededicatedhouse
Martha for Tea Cup Tuesday at, http://marthasfavorites
Sandi for Tea Time Tuesday at, http://sandimyyellowdoor
Tea Time Tuesday at, http://ladykatherineteaparlor
Nifty Thrifty Tuesday at, http://coastalcharm
Angie for Knick of Time Tuesday at, http://knickoftime
Tuesday Cuppa Tea at, http://antiquesandteacups
A Return to Loveliness at, http://adelightsomelife
Ricky Jill for My Happy List Tuesday at, http://artandhome
Kathe for You're Gonna Love it Tuesday at, http://kathewithane
Sandi for Tea Time Tuesday at, http://rosechintzcottage
Angela for Efforts and Assets at, http://hickorytrail
Bernidden for Tea in the Garden at, http://bernideenteatimeblog
Paula and Patty for What's It Wednesday at, http://ivyandelephants
Wow Us Wednesday at, http://savvysouthernstyle
WildlyOriginal Linky Party at, http://gottacreate
Suzy for Home (work) Wednesday at, http://worthingcourt
Rverton Housewives Round Up at, http://therealhousewivesofriverton
Debbi for Wednesdays Adorned from Above Blog Hop at, http://adornedfromabove
Kathy for Home and Garden Thursday at, http://adelightsomelife
Wildly Original Linky Party at, http://igottacreate
Simple and Sweet Friday at, http://rootedinthyme
Suzanne for Vintige Thingies Thursday at, http://coloradolady
Create it Thursday at, http://lambertslately
Terri for It's a Party at, http://acreativeprincess
Festive Friday Fiesta at, http://thehomegirl
Library Day at the Homemaking Party at, http://hopeineveryseason
Feather Nest Friday at, http://frenchcountrycottage
Holly for Tickled Pink at, http://504mainbyhollylafevre
Kathryn for Anything Blue Friday at, http://thededicatedhouse
Jennifer for Creative Friday at, http://jenniferrizzo
Dolly for Farmgirl Friday at, http://thehibiscushouse
Debrah for Be Inspired Friday at, http://commonground
Suzanne for Saturday Sparks Linky Party at, http://piecedpastimes
I will be participating in Tablescape Thursday at Between Naps on the Porch.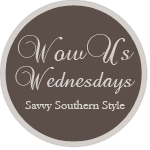 I will be participating on Wow Us Wednesday at Savvy Southern Style.