Hello sweet friends!
I made a small tea table for my friend Carmen who had a birthday yesterday, July 21...so I baked for her an 'Orange Bundt Cake with Orange Glaze' and the recipe is at the end of this post.
My other good news is that our local beautiful home store had a great Anniversary sale and I was so lucky to buy two gorgeous tablecloths! This lovely square lace-openwork tablecloth, was with a 50% off and the other is a white embroidered huge one for my formal dinner table, that was with a 60% off, which I will make a table scape with it for Kathleen's white party at 'Let's Dish' the 31st. of this month. Anyway, hope you like my new tablecloth find and the cake.
Here I used my reticulated tea cups and cake plates to go with the
openwork beige new tablecloth and instead of the same tea set, I decided on another set with pretty flowers for a touch of Summer.
Don't you love the openwork-lace around it?.. this tablecloth is square, much better as the fall is so much prettier than of the round kind..at least I prefer the look of square cuts for round tables.
Here is the lovely center work in it too. My reticulated tea cups, saucers and cake plates to go with the color and style of the tablecloth.
Some tea anyone?
This gorgeous tea set, (if I may so myself) in ivory color with flowers from a few years ago, is made in the Philippines; specially for this store, as they have many things made just for them, in India, Sri Lanka and the Philippines in this case, and I imagine other countries too. I am thrilled because of my two very loved blog friends, Christine from Christine Home and Travel Adventures and Chie from Chubby and Chic...who are both from the Philippines.
The cute tea napkins are perfect for this linen and were from my Mil's tea napkin stash, along with my mom's First Communion, Antique sterling set of tea spoons, which I have a dozen. Mother also made for me the crocheted doily under the tea set.
Love the cheap astromelias from the grocery store; I always buy them for the house as they're $1.17 and so pretty... and also my Lady Carlyle three tier server I bought early this year.
The " Orange Bundt Cake with Orange glaze." I have the recipe for you ladies who'd like to have it, at the end of this post. The cake stand with pedestal was DIY'd by me and I also made another in blue glass too. I will make a post one of these days.
Our breakfast room area, which also helps when we have many guests, as it's next to the formal dining area.
I haven't done anything about fixing, or changing two things here...#1-our pug Ben who died almost three years ago just chewed the legs of this table and #2- he also loved to sleep under it in this old and ugly white rug, lol.. I wonder if it has something to do with missing Ben so much...
Thank you lovely friends for visiting me, as you always make my day!
I appreciate the great parties such wonderful ladies host each week.
LOVE,
FABBY
'Orange Bundt Cake with Orange Glaze'
1 Cup soft butter (unsweetened)
1 Cup sugar
3 eggs
1 Cup sour c ream
1 3/4 Cup flour
1 tsp. baking soda
1 tsp. baking powder
1 Tblesp. grated orange peel
2 Tbsp. cocoa
2-3 tsps. cinnamon
1/2 Cup sugar for sprinkling in pan.
For the glaze:
1/2 Cup sugar
1/4 Cup fresh pure orange juice
Preheat oven at 325F.
In large bowl of electric beater, cream butter,sugar and add eggs one at a time while you beat.
Add the sour cream, flour, orange peel and stir in slowly until combined.
Grease and flour a bundt cake pan. In a small bowl just mix 1/2 C. sugar, cinnamon and cocoa. Sprinkle in pan a couple of Tabls. and leave 1/3 Cup for later.
Pour the cake batter and sprinkle the remaining sugar mixture on top of cake.
Bake cake for 50-60 minutes. Cool for 10 minutes on pan. Than when totally cool brush the glaze.
Make Glaze
Cook in a heavy sauce pan the sugar and orange juice and make it a little thick. Let cool and brush on top of cake, if you want make small holes with a toothpick and pour all the remaining glaze on top of it.
Marty for Inspire Me Tuesday at, http://astrollthrulife
Sandi for Tea Party at, http://rosechintzcottage
Kathy for A Return to Loveliness at, http://adelightsomelife
Mix it Up Monday at, http://flourmewithlove
Nifty Thirfty Tuesday at, http://coastalcharm
The SCOOP at, http://confessionsofaplateaddict
Bernideen for Tea in the Garden at, http://blog.bernideen.com
Paula for What's It Wednesday at, http://ivyandelephants
Kathe for You're Gonna Love it at, http://kathewithane
Angie for Kinick of Time Tuesday at, http://knickoftime
Jenna for Give me the Goods Monday at, http://rainonatinroof
Terri for Tea Cup Tuesday at, http://artfulaffirmations
Martha for Tea Cup Tuesdays at, http://marthasfavorites
Kathleen for Let's Dish at, http://cuisinekathleen
Wordless Wednesday at, http://thehuntcreatewithjoy
Sarah for Make, Bake, Create at, http://hopeineveryseason
What We Accomplished Wednesday at, http://greenwillowpond
Home (work) Wednesday at, http://worthingcourt
Wednesday Adorned from Above at, http://adornedfromabove
Cottage Style Party at, http://lavendergarden
Open House Party at, http://nominimalisthere
Home and Garden Party at, http://adelightsomelife
Terri for It's a Party at, http://acreativeprincess
Vintage Thingie Thursday at, http://coloradolady
Jann for Share Your Cup Thursday at, http://haveadailycupofmrsolson
Christina for Wildly Original Linky Party at, http://igottacreate
Richella for Imparting Grace at, http://graceathome
Home Sweet Home at, http://thecharmofhome
Sweet and Simple Fridays at, http://rootedinthyme
Debrah for Be Inspired at, http://commonground
The Inspiration Gallery at, http://craftberrybush
Bloglovin' and Pinterest Blog Hop at, http://lifeonlakeshoredrive
Courtney for Feathered Nest Friday at, http://frenchcountrycottage
Thrifty Things Friday at, http://thethriftygroove
Festive Friday Fiesta at, http://thehomegirl
Foodie Friday at, http://rattlebridgefarm
Fabulously Creative Linky Party at, http://jenniferrizzo
I will be participating in Tablescape Thursday at, Between Naps on the Porch.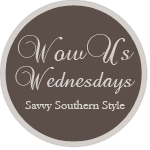 I will be participating in Wow Us Wednesday at Savvy Southern Style.