Hello sweet friends!
I'm cooking away right now, as I'm having all of Alejandro's siblings and their partners to celebrate their birthdays. You see, we take turns in different houses to celebrate one or more birthdays, depending on when they fall; so we have three siblings to celebrate and we'll be hostessing this time...isn't it fun! Therefore, my Memorial tablescape is rather simple, but I used a set of summer Multiple Choice fish plates, to give the scape a little twist; which are so pretty and I have used them before for crab patties, or even just for a summer crab salad, etc.
I will be specially joining Let's Dish at http://cuisinekathleen for her Memorial Day challenge party, Wednesday night. Hope to see you all there to celebrate this very special 'patriotic weekend.'
I just added this MEMORIAL DAY image. My heart goes out to the people in Oklahoma.
May our Lord give strength to the people in Oklahoma who are undergoing struggles with the tornade. Prayers are going their way.
The cobalt blue chargers were made at our former ceramic company. I used my Corona red salad plates, along with my 'Multiple Choice' fish entree plates. White lace table topper and as a runner, an American flag. Some people don't like to use the flag in anything else but...this is just for a little while, for a Patriotic Tablescape and I am not going to use it as a 'real runner.'
Each plate has four types of fishes and the name is written on top of each one. The fish theme is because this long weekend some men might want to go fishing, right?
I have the blue glasses since we got married in 1975. We bought 24 for a party and now I have eight left, ha!

The napkin rings are red, white and blue enamel.
Cute red, white and blue small fish butter dishes.
The vignette in the antique English buffet is also blue. I'm glad I re-decorated it last week.
The fish named in each plate are: Redeye Bass, Spotted Bass, King Carp, and Perch...it's so funny, but I just learned this,

lol

..
Wishing you a wonderful long Memorial Day weekend and I hope you all have lovely, sunny weather, no matter where you are! "God Bless America today and always!"
Thank you sweet friends for all the comments you leave me, as you always make my day!
Thank you lovely and gracious hostesses for having me at your great parties each week.
LOVE,
FABBY
Kathleen for Let's Dish at, http://cuisinekathleen.blogspot.com
Debi and Charly for Adorned from Above Wednesday at, http://adornedfromabove.blogspot.com
Home (work) Wednesday at, http://everydayhome.blogspot.com
Paula What's It Wednesday at, http://ivyandelephants.blogspot.com
Make, Bake, Create Party at, http://hopeineveryseason.blogspot.com
It's a Party at, http://acreativeprincess.blogspot.com
Roverton Housewives Roundup at, http://therealhousewivesofriverton.blogspot.com
Cottage Style Party at, http://lavendergardenparty.blogspot.com
Kathy for Home and Garden Thursday at, http://adelightsomelife.blogspot.com
Open House Party at, http://nominimalisthere.blogspot.com
Share Your Cup Thursday at, http://haveadailycupofmrsolson.blogspot.com
Wildly Original Linky Party at, http://Igottacreate.blogspot.com
Homemaking Party at, http://hopeineveryseason.blogspot.com
Vintage Thingie Thursday at, http://coloradolady.blogspot.com
Debra for Be Inspired at, http://commonground.blogspot.com
Home Sweet Home at, http://thecharmofhome.blogspot.com
Fabulously Creative Linky Party at, http://jenniferrizzo.blogspot.com
It's Party Time at, http://simplyvinageous.blogspot.com
Happy Thursday at, http://artfulaffirmations.blogspot.com
Feathered Nest Friday at, http://frenchcountrycottage.blogspot.com
Tickled Pink at http://504mainbyhollylefevre.blogspot.com
Dolly for The Creative Blog Hop at, htt://dollysdesigns.blogspot.com
Marty for Inspire Me Tuesday at, http://astrollthrulife.blogspot.com
Nifty Thrifty Tuesday at, http://coastalcharm.blogspot.com
Shine on Fridays at, http://oneartsymama.blogspot.com
Festive Friday Fiesta at, http://thehomegirl.blogspot.com
The Farmgirl Friday at, http://hibiscushouse.bogspot.com
Show and Tell Saturday at, http://bedifferentactnormal.blogspot.com
Alma for Seasonal Sunday at, http://thetablescaper.blogspot.com
Diane for Beautiful Sunday at, http://dianewrites.blogspot.com
Mop it Up Monday at, http://ishouldbemopingthefloor.blogspot.com
You're Gonna Love it at, http://kathewithane.blogspot.com
I will be participating in Tablescape Thursday at Between Naps on the Porch.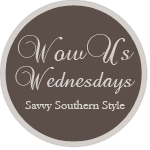 I will be participating in Wow Us Wednesday at Savvy Southern Style.