Hello sweet friends!
I made an up-side down Apple Pancake, for an afternoon coffee or tea time..which is very easy and so yummy, because it's very fast to make. I also serve it with vanilla ice-cream on the side; it's great for an after dinner dessert and everyone loves it! I hope you like it too. The recipe is at the end of this post.
Hubby also made a country Artisan Italian bread recipe, but only he knows how to make it, since he learned it from an Italian cook that worked at his grandparents house. I haven't learn how because he enjoys making this bread very much..so he takes the credit alone, lol.. I arranged our afternoon, tea or coffee setting at our kitchen breakfast nook... for my mother, Alejandro and me. Ok, here it is.
I hand embroidered this blue linen tablecloth in orange leaves, several years ago...specially to go with this china, made back at our former ceramic company, Monte Turi...as the china has lots of blue and orange. Here is my afternoon coffee/tea setting, with my upside down Apple Pancake, home made bread and some cheese for the bread.
I used these pretty brown chargers, my everyday Spanish dinner plates, the hand decorated cake plate, made by us and ivory color flatware to match.
The complete place setting.
Alejandro made this great Artisan Italian bread, he enjoys making it for the family. We are all fans of it, as it's wonderful with cold-cuts and almost any kind of cheese, butter and marmalade, etc..
My Apple Upside-down Pancake. (recipe is at the end of this post). Very easy and fast to make.. aand yummy!
The entire place setting and the pretty teacup. Here you can appreciate the embroidery in the blue linen table topper; it's even showing through the amber glass, lol..

Here you have it..our afternoon tea/coffee time in our kitchen nook.
Thank you so much sweet friends for stopping by and making my day!
I also appreciate the wonderful parties such lovely ladies host each week.
LOVE,
FABBY
"Apple Pancake"
2 small Granny Smith apples, or 1 big apple
4 tablespoons of unsalted butter, (not margarine)
1 tsp. of ground cinnamon
1/4 cup sugar
1/3 cup all-purpose flour
1/3 cup milk
1/2 tsp. baking powder
1/8 tsp. salt
4 eggs, separate
1/3 cup sugar (for the egg whites)
Peal, core and slice apples and cut in thin wedges and sprinkle some lemon juice so they don't tarnish til you use them. In a heavy skillet place the butter, 1/4 cup sugar, and cinnamon. (don't use margarine because it makes the apples separate from the batter). Now, arrange apple wedges, or slices, all around the skillet on top of the butter mixture. Make two circles, one big and one smaller, until the bottom of the skillet is completely covered with apples, (like the pic) and cook for 3-4 minutes and turn off flame.
With an electric mixer, beat flour, milk, the 2 egg yokes, b.p. and salt. In another bowl beat the egg whites til stiff peaks form and add while beating, 1/3 cup sugar. Fold them into the batter. Pour this mixture evenly on top of the apple wedges and bake it in a preheated oven at 350F- for 15 minutes, or so..check it inserting a toothpick in the middle of cake.
When it's ready remove sides of the pancake with a metal spatula and immediately turn it into a cake plate. You can serve it warm or cold and with vanilla ice cream on the side...if you want, otherwise, alone is perfect too.
Kathleen for Let's Dish at, http://cuisinekathleen.blogspot.con
Paula for What's It Wednesday at, http://ivyandelephants.blogspot.com
Primp your Stuff Wednesday at, http://primp.blogspot.com
Ricky Jill for My Happy List at, http://artandhome.blogspot.com
Make Bake Create at, http://hopeineveryseason.blogspot.com
Dining with Jesus and Share the Shelter Linkup at, http://ashelteringtree.blogspot.com
Cottage Style Party at, http://lavandercottage.blogspot.com
Marty for Inspire Me Tuesday at, http://astrollthrulife.blogspot.com
Wednesday's Adorned from Above at, http://adornedfromabove.blogspot.com
Riverton Housewives Round Up at, http://therealhousewivesofriverton.blogspot.com
Dolly for The Country Homemaker at, http://dollyiscooking.blogspot.com
Open House Party at, http://nominimalisthere.blogspot.com
Share Your Cup Thursday at, http://haveadalycupofmrsolson.blogspot.com
Ivonne for Tutorials, Tips and Tidbits at, http://stonegable.blogspot.com
Terri for It's a Party at, http://acreativeprincess.blogspot.com
Made U Look Linky party at, http://madeinaday.blogpot.com
Suzanne for Vintage Thingie Thursday at, http://coloradolady.blogspot.com
Richella for Grace at Home at, http://impartinggrace.blogspot.com
Thrifty Things Friday at, http://thethriftygroove.blogspot.com
Courtney for Feather Nest Friday at, http://frenchcountrycottage.blogspot.com
Food on Friday at, http://caroleschatter.blogspot.com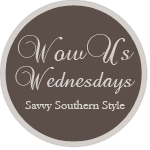 I will be participating in Wow Us Wednesday at Savvy Southern Style.
I will be participating in Tablescape Thursday at Between Naps on the Porch.